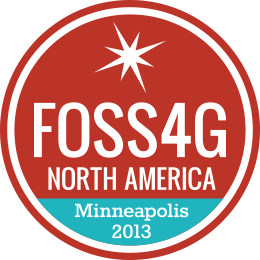 Well, working in the oil spill field (with NOAA) the last couple of years has kept me very busy… I might even say too busy. I used to attend many conferences and made a point to invest a large chunk of my time to the Open Source GIS community. As I have been trying to come up for air this year and re-engage a bit more with my community of developers I decided to head to Minneapolis to FOSS4G-NA this year… and man am I glad I did. It was awesome!
First I must give a huge shout out to David Bitner and the whole organizing committee who really did a great job planning and executing a top notch event. Without all the countless volunteer hours something like this would not happen, and I can not say enough how essential this type of event is to our community.
It is fitting that this is the 10th anniversary of the first ever MapServer User Conference (I missed that one, but made the second one) which started in Minneapolis and was a real kick-starter toward the formation of OSGeo.
So… on to the conference this year. For me the big highlight of these events is the social gathering and ability to just hang out with the people you are always talking to on IRC. This year was no different (and probably even better than in years past). It all started with a pre-conference meet-up the night before things kicked off (Tuesday night). It was a great gathering of old friends (the old guard… of which I am a gray haired member now), and some great new friends (those JavaScript hacking kids I cant keep up with anymore). It was just so fun to see all the talent descend upon Minneapolis and see everyone smiling.
Day 1 of the conference was long… and I mean LONG. Arrived at the venue about 8am and did not leave until 8pm. 12 hours of geo-geekery at its best. The opening talks where well received and the crowd was eager to hit the sessions… and we did. There was something for everyone and having 5 concurrent sessions throughout the conference made it feel like a big event… while the committee was able to keep the overall conference feeling intimate.
Oh, I forgot to mention… even though I work almost exclusively for NOAA (and love it), I was attending foss4g-na on my own this year… just me having a good time with my people. This allowed me to talk about things I am passionate about and really focus on the community aspect of what we do instead of sometimes dry "work" things.
My first talk was on projfinder.com which is a CUGOS hack project. If you have not heard of CUGOS… or you are not on our mailing list… get off the couch and go get involved. We are a very passionate group of Geo Geeks in the greater Seattle area who love to hack… and I was there to tell the story of some of our projects.
Projfinder is a simple project that has provided great hack session opportunities for our local group… and is kind of a neat idea to boot. Go check it out, but the gist is that you can give us an "X and Y" in an unknown projection as well as a "reference point", and we will try to kick back the most likely projection to you. Feel free to cycle through the slides here and try it out at projfinder.com. Like I told the audience at the time… the point is not that we created a simple and hopefully useful tool… it is that we did it with our local community of Open Source GIS hackers as a learning opportunity. Go forth and replicate the process in your local community…
After getting that finished up in the late morning I was free to enjoy multiple sessions all afternoon. The quality of talks was high and I was just getting more and more pumped as the day went on.
Into the evening things progressed with a vendor hour… beer and wine flowing. At about 6pm we kicked into lightning talks… and that is where it got fun. I was on deck for talk #3… mapfart.com. You heard right… mapfarts. At this point I am pretty sure all of my paying clients where glad they did not sponsor my attendance to this conference, but I sure was having fun. Armed with a "Fart Machine" I took the stage for my 5 minutes of shame… and delivered my 20 slide deck. I am not sure the fallout from this one… but it was pretty damn funny and I had a blast getting the crowd worked up… I think I will be known for mapfarts from this point forward.
After some great food and drinks out with the CUGOS crew… it was time to get some sleep in prep for day 2.
Day 2 was more of the same… great talks and great conversation. We started off with a very inspirational talk by Eric Gundersen who I cant speak highly enough about. What he is driving over at mapbox is truly inspirational… and I came out of the morning plenary all pumped up. Day 2 saw more talks by CUGOS members with Nick Dimiduk of Hortonworks talking about tilebrute and scaling out Mapnik tile generation via Hadoop (yes… he is that smart)! Second we had Jared Erickson and Michael Payne of Pierce County IT/GIS talking about Open Source projects within their county. If you want to see a local small government doing it right… go check them out. Jared is a regular CUGOSian as well and very involved in other cool projects like geometrycommands which where featured in the mapfart talk. Sharp folks… with great messages to deliver. Could not have been more proud of the great showing our local CUGOS group made at this event.
After this we where all off to the Gala Event down at the Mill City Museum. We where treated to a great venue, great food, and just a wonderful evening. Late night drinks and then off to bed… I had a 7am flight out the next morning.
While not geo related, I got off the plane the next morning in Seattle to hop directly into a car to drive to Spokane to compete in the 24 hours round the clock mountain bike race. We finished 6th out of 19 teams in the 4 person open division… and I must say it was hard as hell… but so so so fun.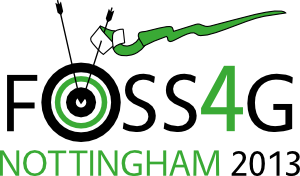 So… back at home for the first time in a week and I am already contemplating how to get to foss4g 2013 international later this year! This community we have is like no other… I appreciate it more and more every day and I encourage all of you sitting out there… dive in and make some mapfarts… you wont regret it.